Martha Stewart never fails to give me a photograph of something that I love... I was looking at a back issue of MS Living and came across this photo of custom cabinetry in a shed made from wine crates. You could also just use the crates at AC Moore or Michael's (with their 50% off coupons!) and stencil something vintage-y on it!
Is anyone else out there obsessed with This Old House? I've linked the photo of this card catalog server back to the original article but I think this is so original! The owners said they have the perfect place for wine bottles and serving pieces now!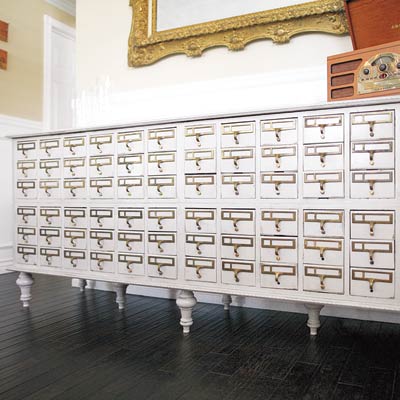 I love the vintage look of this
Hunter fan
that Target has started to carry:
The website Expressionery is fabulous and they are having a 30% off sale on their custom stamps. I think this one is adorable! Unfortunately, I couldn't make the photo any larger.
Here is a tribute to AJ and his love for BMWs. We are in the market for a new car (because mine, a Volvo S60 is terrible... maybe I'll feature it in a Wednesday Hates column) and one of these would be on our wishlist... but we'd have to find someone, or a dealer, who we could offer a bargain basement price to... Our interim pastor, Pablo, has a cousin that sells them and Pablo gets his for the same price you'd get a Honda for... I think we need to go find that cousin.
Short column for today because we are leaving for NY for AJ's brother's wedding!