Drew has just gone down for a nap... I had him in the jogging stroller, my running clothes were on, I quickly checked my email and got him his missing sock (how does he lose them so easily???) and by the time I got back he was out like a light. So, instead of running right now, I'm writing Wednesday Loves... which sounds a million times more enjoyable than pushing an incredibly heavy baby around town and wishing I was home eating chocolate chip pumpkin bread.
Does anyone else love the color of these walls? It is Benjamin Moore's Antique Pewter. I even like the name. Photo from
here
.
I would love love love to make
this
no-sew tree skirt for under the tree this year. I love the words "no sew" especially when I think of what a disaster it's been to make those slipcovers for the living room chairs. My gifting is NOT making a pattern and NOT sewing according to it.
I completely adore
this dress
... maybe because it reminds me a little bit of my wedding dress...
Isn't this DIY
terrarium
fabulous? It's just made out of a clear glass Christmas ornament... I'm already getting ideas for making a knockoff one of these to have around the house...
Using old drawers is such a great idea for a way to display food for a party... especially a fall party... Photo from
here
.
Good quote from Bob Marley:
I'm collecting ideas for painted cabinets (more on that later this week) and like
these
... they are a different color than I would normally gravitate towards but the kitchen still looks clean and traditional.
Have you seen mercury glass before?
Here
is a great tutorial on how to make your own... it's incredibly easy
(I say this before attempting to do it).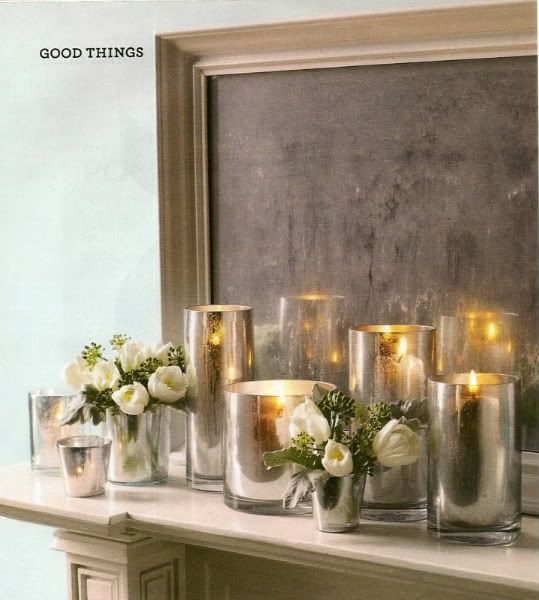 I'm off to take some photos of my makeover from the past couple of days. Oh, and spy on the neighbors... they knocked down their house at the beginning of the summer and the pieces for an enormous pre-fab have been coming in throughout the day.... the dormers about half the size of the ranch next door (you think I'm exagerating... I'm not really).